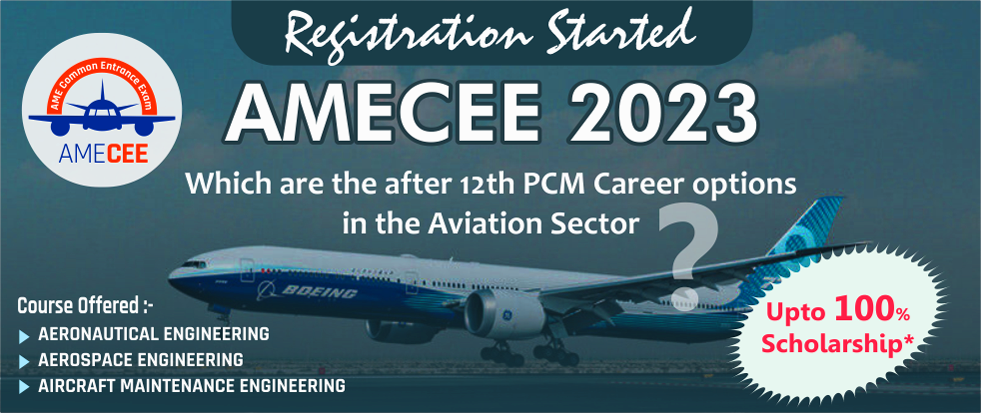 Finding the top colleges in India is one of the toughest jobs after completing schooling. When it comes to aeronautical engineering, already in India there are few colleges, and finding the right one will be a task. Attending the Aeronautical Engineering common entrance examination is one of the best ways to secure a place in one of India's top Aeronautical Engineering colleges. The AME CEE is the Aeronautical Engineering entrance exam to take in order to gain admission and up to 100% scholarship to one of India's top government-approved Aeronautical Engineering colleges.
In this course, one will get knowledge about the drafting and development of aircraft. The aircraft and its components can be drafted using CAD software. To obtain an Aeronautical Engineering degree, students must first study and then pass a four-year examination. There are several designations in the aviation sector where these engineers are hired at an attractive salary.
What is the qualification for Aeronautical Engineering?
Students must make a list of the courses that they are eligible to pursue before selecting aeronautical engineering colleges. The first step towards completing any of the courses is to satisfy their qualifications. Here are the Aeronautical Engineering prerequisites that must be met before beginning the admissions process:
An aspirant should be appearing for or having passed 12th with Physics, Chemistry, and Mathematics (PCM).
One passed 3 year engineering diploma from board.
One should apply for the Aeronautical Engineering entrance examination, i.e., AME CEE.
Age limit must be from 16 to 28 years.
Admission Process to Top Aeronautical Engineering Colleges in India
In this competitive world, getting admission into one of the top Aeronautical Engineering colleges in India is not a piece of cake. To gain admission, a student must shed blood, sweat, and tears. The process must be carefully followed without omitting any steps:
An Aspirant should apply for the AME CEE Aeronautical Engineering entrance exam for getting admission in one of the top colleges in India with up to 100% scholarship.
After cracking the AME CEE entrance examination, an aspirant became eligible to participate in the admission counselling and was able to select the colleges of their choice from the given list. The colleges and scholarships will be awarded purely on the basis of the aspirant's AIR.
An aspirant must report to the chosen campus for document verification within a certain time frame.